News you can use
High Stakes for Gaining A Measure of Control

The stakes for eliminating easy access to prescription drugs are high, given the steep
rise in abuse of the medications, teleconference speakers stressed. In fact, the current
abuse problem is "unprecedented," noted Ieana Arias, PhD, CDC principal investigator.
Dr. Arias related how drug overdose deaths have quadrupled from 10 years ago, and
now occur more frequently than automobile-related fatalities. More than 75% of the
precription drug-related overdoses involve opioids, she said. What's more, for every 2009
death involving the use of an opioid, there were nine drug rehabilitation admissions, and
the annual economic impact now approcaches $72 billion.
Overdoses Increase
In the Mobidity and Mortality Weekly Report Dated
11/4/2011 there is an article discussing the Overdoses of Prescription Opoid Pain Relivers in the United States for the period of 1999-2008.

Overdose deaths involving opioid pain relievers, also known as opioid analgesics, have increased and now exceed deaths involving herion and cocaine combined. CDC analyzed rates of fatal OPR overdoses,nonmedical use,sales, and treatment admissions.

In 2008, drug overdoses in the United States caused 36,450 deaths, OPR were involved in 14,800 deaths (73.8%) of the 20,044 prescription drug overdose deaths. Death rates varied fivetold by state. States with lower deaths had lower rates of nonmedical use of OPR and OPR sales. During 1999-2008, overdose death rates, sales,and substance abuse treatment admissions
related to OPR all increased substantially.

The epidemic of overdoses of OPR has continued to
worsen. Wide variation among states in the nonmedical use of OPR and overdose rates cannot be explained by underlying demographic differences in state populations but is related to wide variations in OPR prescribing.

The states with the highest drug overdose rate of opioid pain relievers (OPR) are Nevada, Utah, New Mexico, Oklahoma, Louisiana, Florida, Kentucky, West Virginia, Ohio, Pennsylvania, and Alaska. These states are followed by Washington, Montana, Wyoming, Arizona, Alabama, Arkansas, Missouri,Indiana, Tennessee, and
North and South Carolina. The lowest rates were found in the plain states such as North and South Dakota and in some Northeastern States and some Southern States.

These findings correspond very closely to the amount of OPR drugs sold in these states.

Public health interventions to reduce prescription drug overdose must strike a balance between reducing misuse and abuse and safeguarding legitimate acces to treatment. To find this balance, healthcare providers should only use OPR in carefully screened and monitored patients when non-OPR treatments have not been
sufficient to treat pain, as recommended in evidence-based guidelines.
Study Emphasizes Genetics in Adolescent Progression to Heavy Drug Use
A study out of Cardiff University in Wales suggests that while environmental factors like peer influence,cost,and availability play a key role in whether adolescents experiment with drugs, genetic factors are likely more responsible for progression to heavier substance use and addiction.
Cocaine Use Linked in Heat Attacks
Regular cocaine use can be blamed for a quarter of the non-fatal heart attacks suffered by people under age 45, says a study in "Circulation." Working with information on 10,085 people, researchers divided them into never, infrequent, and frequent cocaine use groups. the researchers found that regular cocaine users had nearly seven times the risk of having a non-fatal attach than non-users.
Marijuana Getting Stronger
Marijuana continues to get a little more potent each year. A project at the University of Mississippi has tested samples of marijuana seized by law enforcement annually since the late 1970's to ckech levels of THC, the active ingredient. The average amount of THC in marijuana seized last year reached 8.5%, up from 7% in 2003. Although teenage use is down, marijuana is blamed for more emergency room visits. The increase in the THC level is due to genetic engineering.
MARP 2022 Seminar ("An Overview of Issues Associated with Addiction")
The Mississippi Association of Recovering Pharmacists held its annual seminar in Columbus, MS at Lion Hills the weekend of July 30th and July 31st, 2022.

Loren Beck was back with us this year to talk about Motivational Interviewing. He explained the O.A.R.S tool to us- open questions, affirmations, reflective listening, and summary reflections. Loren was our first speaker of the day Saturday, July 30th.Acute to Chronic Pain - Part I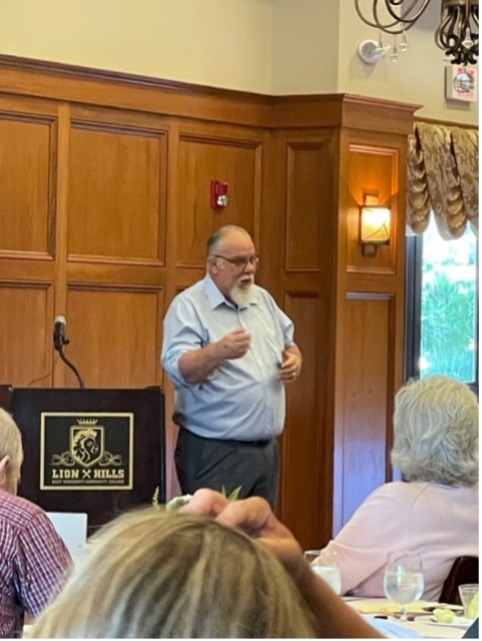 Loren Beck, LADC, PRS, D-CS


Greg Greer was up next. Greg is also employed at Palmetto Drug Treatment Center in Rayville, LA. Greg talked to us about relationships in addiction. He discussed barriers to spirituality and talked at length about co-dependency and dependent personalities. We also learned about defense mechanisms.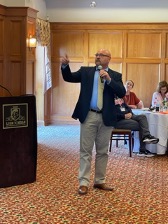 Greg Greer, LAC, LMSW, CGP

After we all ate lunch, Dr. Eric Hedberg talked about the brain chemistry of addiction. He described predisposition to substance dependence and he showed us how we could identify symptoms of substance dependence. He also explained why "just say no" does not work in substance dependence.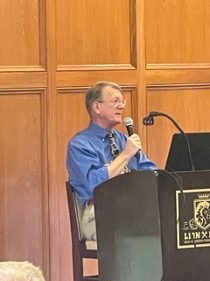 Dr. Eric Hedberg, MD

Finally on Saturday Rachel Claire Franklin was with us to discuss suicide prevention. She told us how social support can ease the stress response and increase help-seeking intentions among those with depressive symptoms. She also identified referral resources for individuals who may be experiencing distress. Rachel Claire also provided information about behavioral clues to chronic stress.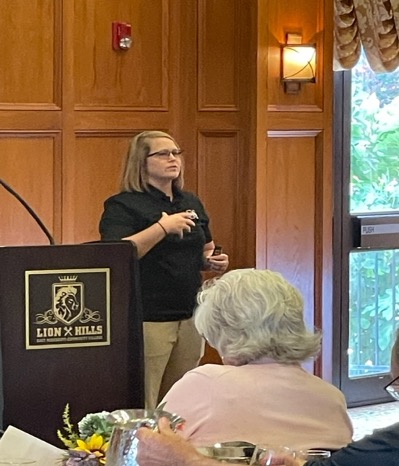 Rachel Clair Franklin, LPC-S, CHES

On Sunday, July 31st Whitney Cox was with us to address current trending drugs of abuse. Whitney is employed at The Pines and Cady Hills in Columbus, Mississippi. We learned about the types of substances being abused currently and their effects, including methods of use. Whitney also talked about the recent opioid overdose numbers in our state and the use of Naloxone. She also analyzed trends toward harm reduction models of treatment for us.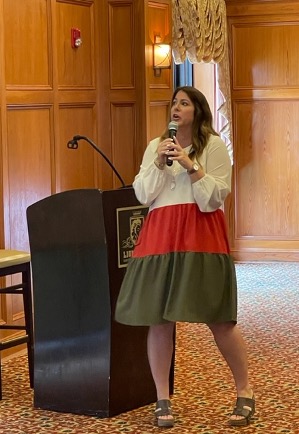 Whitney Cox, LPC-S, CAT, NCC

Last up was Shlanda Ball. Shlanda is also employed at the Pines and Cady Hills. She was with us to discuss character defects. We were told how to identify character defects and also we were given examples of character flaws. Shlanda also told us how we could relate the types of character defects in our own lives and how they affect others around us.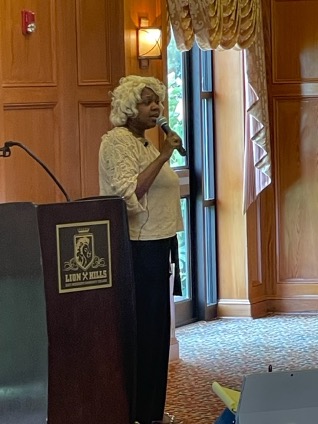 Shlanda Ball, P-LPC, CTP, The Pines and Cady Hills

MARP 2020 Seminar ("An Overview of Issues Associated with Addiction")
The Mississippi Association of Recovering Pharmacists held its annual seminar in Columbus, MS at Trotter Convention Center the weekend of October 26 and 27, 2019.